Welcome to Week 39 of The 52 Week Love Project – Acts of Kindness. The project designed to recognize 52 inspiring humans who are giving back to our community – whether in a small way or by creating a movement for change and inspiration.
Introducing – Donna De Zwart – the CEO of Fitted for Work.
Their Mission:
To assist women experiencing disadvantage break through barriers to get work, keep work and navigate their world of work. When asked what Donna's Inspiration is: 'I am inspired every day by the women that access our services. The women that we see are resilient, determined and courageous.'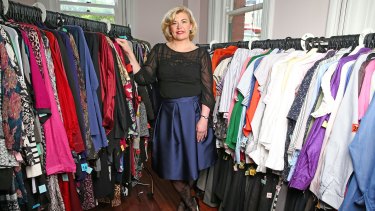 WHERE DID IT ALL BEGIN?
Founded by Renata Singer and Marion Webster, Fitted for Work was established in 2005 in Melbourne and was the first organisation of its kind in Australia. We have since expanded with a second office in Parramatta, New South Wales and we now assist women nationally through virtual service delivery. We support women from varied backgrounds. For example, they may be older women; survivors of domestic violence; single mothers; experiencing homelessness; recently released from prison; transgender or gender diverse; a newly arrived migrant or refugee woman; or have a disability.
WHAT DO YOU DO?
Our mission is to assist women experiencing disadvantage break through barriers to get work, keep work and navigate their world of work.
We develop each woman's confidence and self-esteem as well as her skills and knowledge to obtain work through a suite of tailored pre-and post-employment services, including personal outfitting, resume assistance, interview preparation, mock interview practice and mentor placements.
Since 2005 we have helped over 35,000 women. 64% of the women sampled who access our suite of services find work within just 4 months and 100% report increased confidence and job readiness after completing our Transition to Work and WomanKind programs.
WHAT INSPIRED YOU?
I am inspired every day by the women that access our services. The women that we see are resilient, determined and courageous. I'd like to share with you the inspiring story of one client, Marilyn, who accessed our services last year.
"Fitted for work gave me the confidence I needed to apply for a new job. Once I had been in the position for a while I applied for a credit card and small personal loan. I started looking for two bedroomed rental properties and as soon as I found one I moved out of an abusive relationship and have not looked back.
I have realised no matter how dark things seem at the time there is always light at the end of the tunnel. I am almost at the end of my tunnel and I am looking forward to the future.
I encourage any woman who is looking for work to contact Fitted for Work as they are really helpful and they care about women from all walks of life."
HOW DO YOU GET PAST SELF DOUBT?
We see thousands of women every year, from all works of life, and the one commonality they share is self-doubt.
We have found that employment not only provides financial security, but also a sense of purpose, social connectedness, dignity and pride. There is a beautiful ripple effect when you help one woman find work. The way a woman values herself has a direct impact on the way she goes home and parents her children, the way she engages with the wider community and the way she enriches her workplace.
It is important to remember that self-doubt affects everyone at one point or another. Be patient and kind with yourself and focus on your purpose.
WHAT ADVICE DO YOU HAVE FOR OTHERS WHO WANT TO MAKE A DIFFERENCE/CHANGE IN THE WORLD?
Remember that your choices and actions are powerful.
Anna Lappe once said, "Every time you spend money, you're casting a vote for the kind of world you want." Buy from social enterprises, donate to causes that resonate with you and promote the work and impact of not for profits and for purpose organisations.
Don't underestimate your ability to make a difference in the world.
DO YOU HAVE A QUOTE OR EXPRESSION THAT YOU LIVE BY?
There is no development strategy more beneficial to society as a whole – men and women alike than the one which involves women as central players.
Kofi Annan
WHAT ELSE DO YOU DO?
As advocates for financial independence for all women, Fitted for Work strongly believes we need to practice what we preach when it comes to economic security and financial independence. We are working had to build our own financial security, through the implementation of two social enterprises, the Conscious Closet and SheWorks.
The Conscious Closet is our retail social enterprise, where donated clothing that cannot be utilised in our Personal Outfitting service is sold to the public. 100% of profits made from sales at the Conscious Closet are reinvested into our programs and services.
The Conscious Closet allows us to promote Fitted for Work's services to a wide audience and allows us to utilise our clothing and apparel donations in the most sustainable way. In the last year, The Conscious Closet Melbourne rehomed 6,950 items, that's approximately 2000 kg of potential textile waste!
SheWorks is our recruitment social enterprise. Through SheWorks, we connect businesses looking to attract and retain quality female employees with our pool of work-ready women.
SheWork's mission is to increase employment outcome rates for women experiencing disadvantage and build diverse, inclusive workplaces, whilst providing an independent revenue stream for Fitted for Work.
HOW CAN OTHERS HELP/GET INVOLVED?
Melbourne:
Ground Floor, Queen Victoria Women's Centre
210 Lonsdale Street, Melbourne VIC 3000
Tuesday – Saturday, 12-5pm
Parramatta:
Suites 37 & 38a, 70 Phillip Street, Parramatta NSW 2124
Pop-up sale last Friday of every month 11am-1pm
(https://fittedforwork.secure.force.com/Donate/20162)
(https://fittedforwork.org/get-involved/volunteer/)
Please join our mailing list for the 'The 52 Week
Love

Project' and we will hit your inbox each week with the story of an inspirational game changer … Sign Up: Here!